A Breakdown of Your Brake System
We all know that brakes help our Ford car, truck, or SUV come to a stop, but how does it do this? To stop your vehicle, there needs to be leverage supplied by your foot pressing the brake pedal. The pedal is connected to the back of the power booster by rods and levers to use either engine vacuum or a hydraulic pump to transfer force to the master cylinder. This master cylinder uses the applied leverage to cause a reservoir of brake fluid through valves, steel lines, and rubber hoses into hydraulic calipers and wheel cylinders. This pressure creates friction. It's easy to take for granted this valuable system of parts, but this is why our team is here to provide your vehicle with the Ford brake service that it needs to keep you safe.
Do My Brakes Need to Be Replaced?
Your brakes are one of the most important safety features on your vehicle. Germain Ford of Beavercreek is here to help you make sure they're in optimum condition. Brakes are designed to slowly wear as you use them. That's why it's so important to visit your Ford Dealership where an expert technician can perform a thorough inspection and complete any needed maintenance or repairs.
There are many warning signs that your brakes are close to requiring a closer look, and some of them are tough to spot, while some are a dead giveaway. If you notice any of these problems, be sure to contact our team immediately. Do you know all of the warning signs?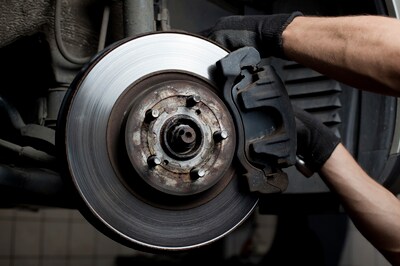 Your brakes are spongy or slow to respond
If you feel a pulsating when applying the brakes, this can also indicate an issue with the rotors
A red dashboard light indicates a system imbalance
There is an amber light on your dashboard alerting you to issues with your ABS
There is a grinding or constant squealing while braking
Any one of the above signs may not indicate that your brakes are bad, but they do mean you need to have them looked at by our Ford service team. If your vehicle pulls to the side when you press the brakes, this could also indicate an issue that requires attention.
What Role Does Brake Fluid Play?
Brake fluid is often overlooked by car owners, but it's another part of the braking system that requires consideration from time to time. Over time, the brake fluid may begin to break down, causing damage to the parts and anti-lock brake system components. Replacing the ABS can become expensive, which is why it's recommended to keep an eye on your brake fluid.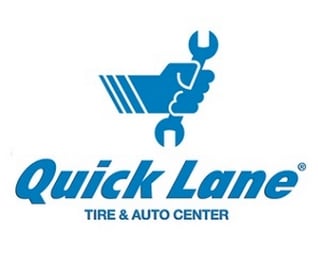 Schedule a Brake InspectionToday!
Lifetime Brake Pad Guarantee*At Ford, we'll stop at nothing to make sure you can stop for anything. That's why we provide a Lifetime Brake Pad Guarantee. Our brake pads are specifically designed and engineered for your Ford. For optimum stopping power, schedule a brake inspection at your Germain Ford of Beavercreek.
Schedule Service
Quick Lane®