Whether you're driving around in one of the
latest Ford models
or have a tried-and-true
used Ford vehicle
that you've cherished for years, you know that regularly scheduled maintenance is an essential part of any vehicle's lifecycle. And of all the maintenance you can do to keep your Ford vehicle in tip-top shape, no service is more important than regular oil changes.
Now, here at Germain Ford of Beavercreek, we take great pride in being gearheads. We know the ins-and-outs of each and every Ford vehicle for sale at our Beavercreek, OH dealership, and we want to share that knowledge with you. That's why we've put together a helpful breakdown to give all our customers a better understanding of what an oil change is, why it's important, and what we do here at Germain Ford of Beavercreek to make sure the job gets done right.
What is an oil change?
Besides gasoline, oil is the fluid your Ford vehicle needs most to function efficiently. Oil helps lubricate the moving components of your engine, while removing buildup and helping to transfer heat away from crucial parts which could otherwise be damaged by it. A properly lubricated engine runs more efficiently, and using the right engine oil can ensure that you reap the full potential benefits of your Ford vehicle's gas mileage.
When do I need to change my Ford vehicle's oil?
The short answer is: It varies from model to model.
However, Ford vehicles are typically designed to be pretty conservative with oil, so you can usually abide by a few rules of thumb. If your vehicle is a 2007 model year or older, you'll typically want to have your oil and filter replaced every 5,000 miles or six months, whichever comes first. On the other side of that coin, if you're driving a 2008 model or newer, you can often go as far as 7,500 miles or six months, whichever comes first. In fact, there are even some Ford models that can go as far as 10,000 miles between oil changes. However, it's always best to consult your owner's manual or one of our Ford service technicians here at Germain Ford of Beavercreek to determine the proper intervals between your oil changes, as differing driving habits like towing heavy loads or frequently driving at low speeds for long distances can affect the longevity of your engine oil.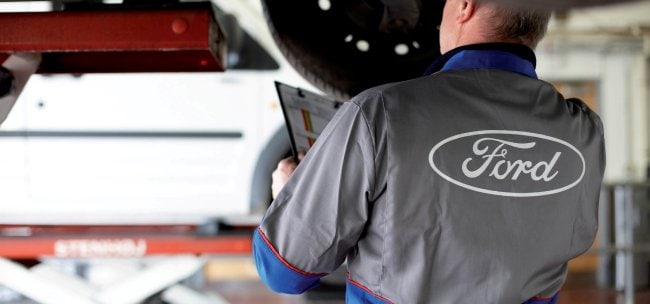 Okay, I'm due for an oil change, what do I do?
This is a fairly common question, and luckily, it's one we're well-equipped to answer: Just bring it to us! At our Beavercreek, OH Ford dealership we've happily provided thousands of oil changes to drivers all over our hometown and nearby Xenia, Fairborn, Miamisburg, Middletown, Dayton, Springfield, and Vandalia, OH, and we'll happily do the same for you.
In fact, when you bring your Ford vehicle in for an oil change, you can even take advantage of The Works™ service package, which includes an oil and filter change using Motorcraft synthetic blend oil, a tire rotation, tire pressure check, brake inspection, battery test, filter check, belt and hose check, fluid top-off, and comprehensive multi-point inspection.
That sounds great!
That's not really a question, but you're right, it does sound great! What's more, all you need to do to take advantage of our attractive offers on oil changes here at Germain Ford of Beavercreek is simply schedule your next service appointment right online today! We'd love to help you get the most out of your Ford vehicle, and having your oil changed with us is one of the best things you